Vivian Dorothy Maier was an American Street Photographer. She was born in New York on February 1, 1926. Vivian Maier worked as a nanny mostly all her life. No one knew that she was a photographer of such caliber until she died and her life's work was accidentally unearthed from a storage locker in Chicago.
In fact, many people close to her didn't even know that she took photos.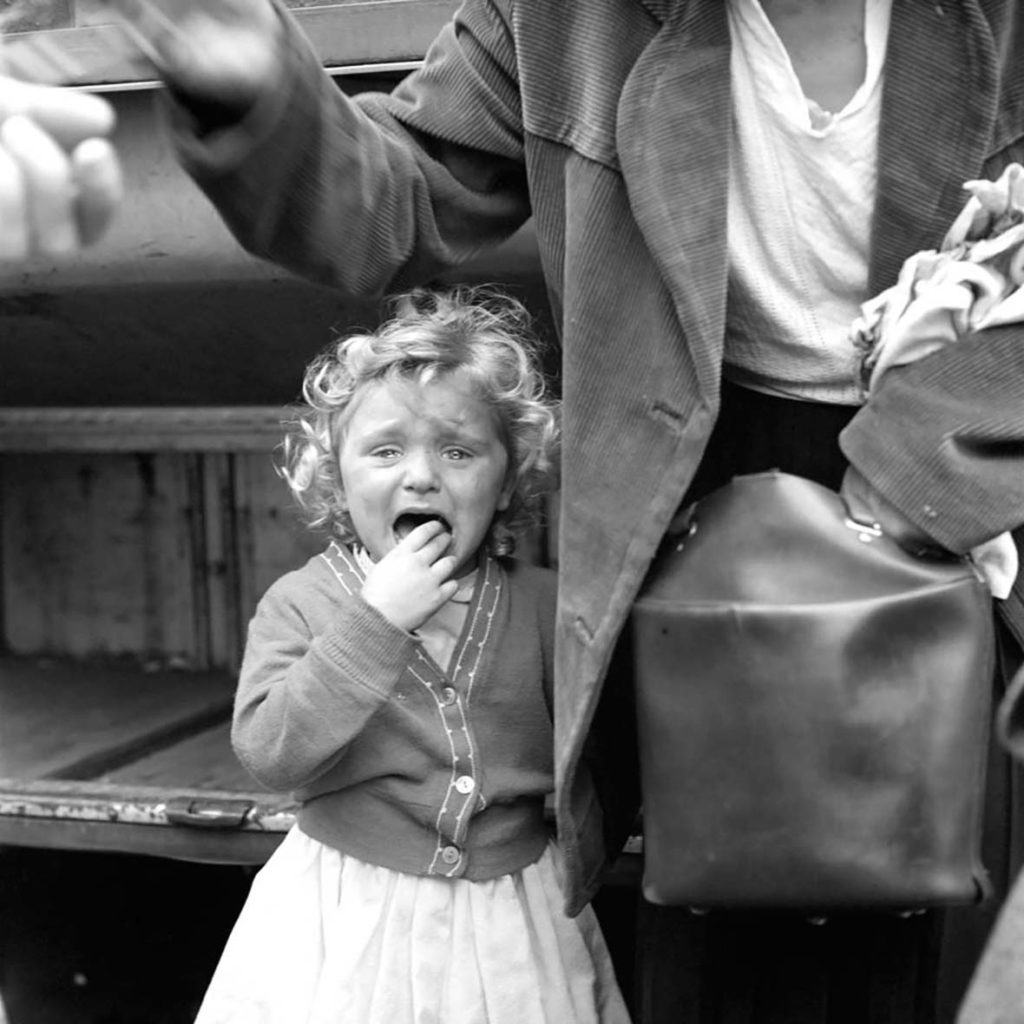 She NEVER talked about her photographs to anyone. The little that we know of her is largely conjectures, stemming from her photographs. She shot nearly 1, 50,000 pictures in her lifetime.
Vivian Maier was an extremely private, secretive and eccentric woman. She worked as a nanny in the northern suburbs of Chicago for the better part of her life. A private person with an insatiable interest in other people's lives. She started taking 'street pictures' even before the term was actually coined. In a way, she is the personification of finding art. She was a loner and a recluse in her own terms. She never liked being asked too many questions and always revealed as little about herself as possible. The children she took care of as a nanny (who are now quite grown up), mostly describe her as a very strict disciplinarian, firm and a little eccentric. "Miss Maier" is what she asked most of them to call her. Only "Miss Maier", nothing else.
Early Life
Vivian Maier was born to Maria Jaussaud Justin, a French woman, and Charles Maier (also known as Wilhelm), an Austrian. The census records show that Vivian Maier also had an elder brother but not much is known about him. At the age of four, Vivian lived alone with her mother, without her elder brother or father, at St Mary's street in the Bronx. Her father, for reasons unknown, had left the family temporarily in 1930. Jeanne Bertrand, a successful studio photographer, was listed as the head of the Maier household. It is widely believed that Jeanne had a profound effect on Vivian as a young girl; maybe something that led her to choose photography later in life.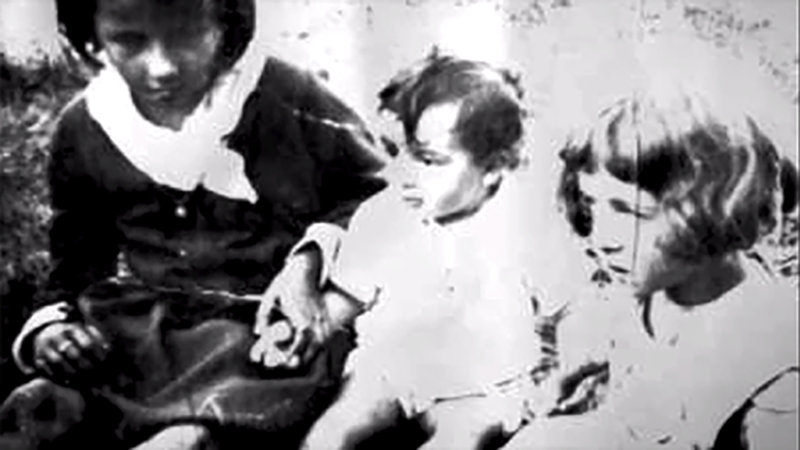 From the age of six to twelve, Vivian Maier lived in France in her mother's village in Champsaur, near the French Alps. She went to a school there called St Bonnet-en-Champsaur. She was not received very well by the native villagers. They always thought of her as an outsider from America. Many even thought that she was a spy; as she was constantly taking pictures of everything around her. The flat where Vivian and her mother stayed was not very comfortable or warm. She and her mother returned to New York in 1938.
Vivian spent the next twelve years in New York. When she was twenty-four, she again went back to France, to her village to oversee the sale of a farm called "Beautiful View" that belonged to her great aunt. This was just after the Second World War.
When she returned this time, Vivian like her grandmother and mother began to work as a domestic help. It seems she took up photography really seriously around this time. Maybe she chose to be a nanny so that she would not have to think of shelter and food so much, as her employer would always provide for all that; while she could concentrate on her photography. Being a nanny also allowed her to be outdoors, and more often on the streets, which she really enjoyed.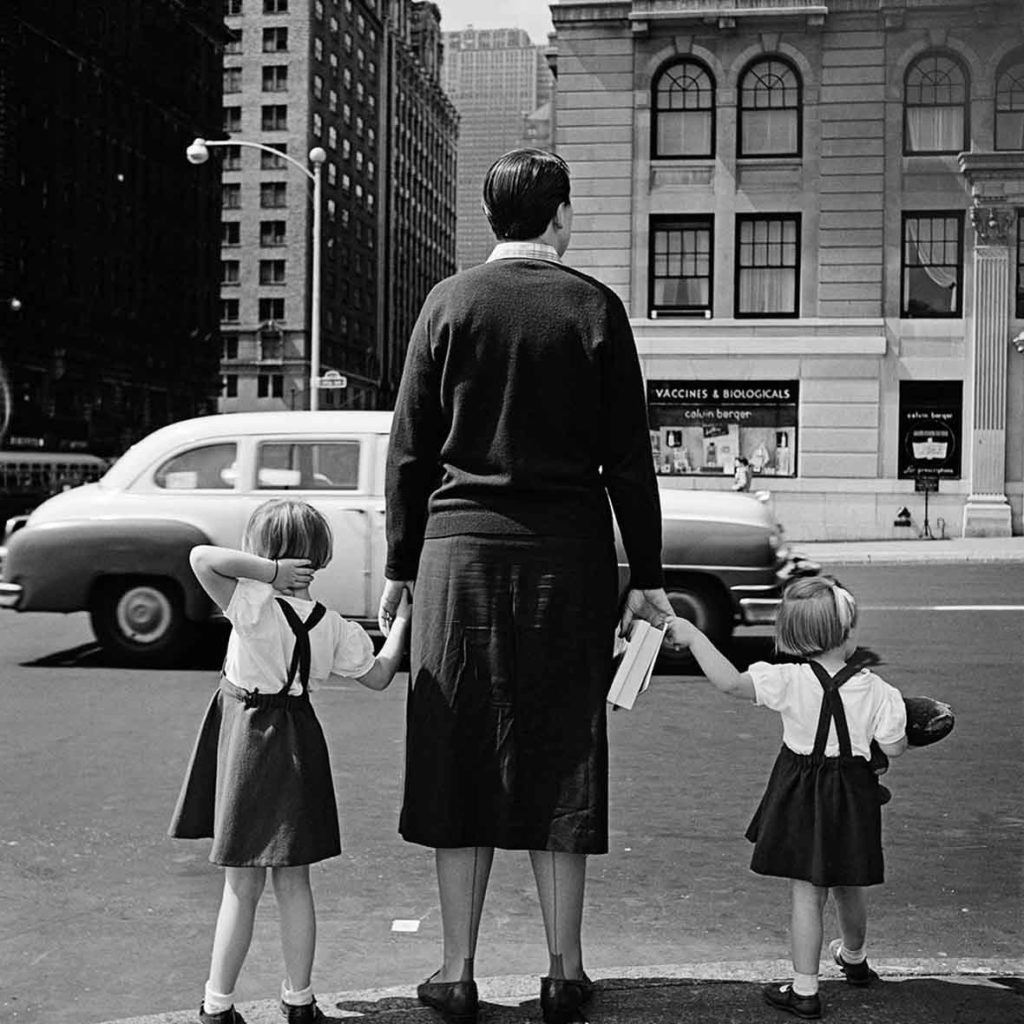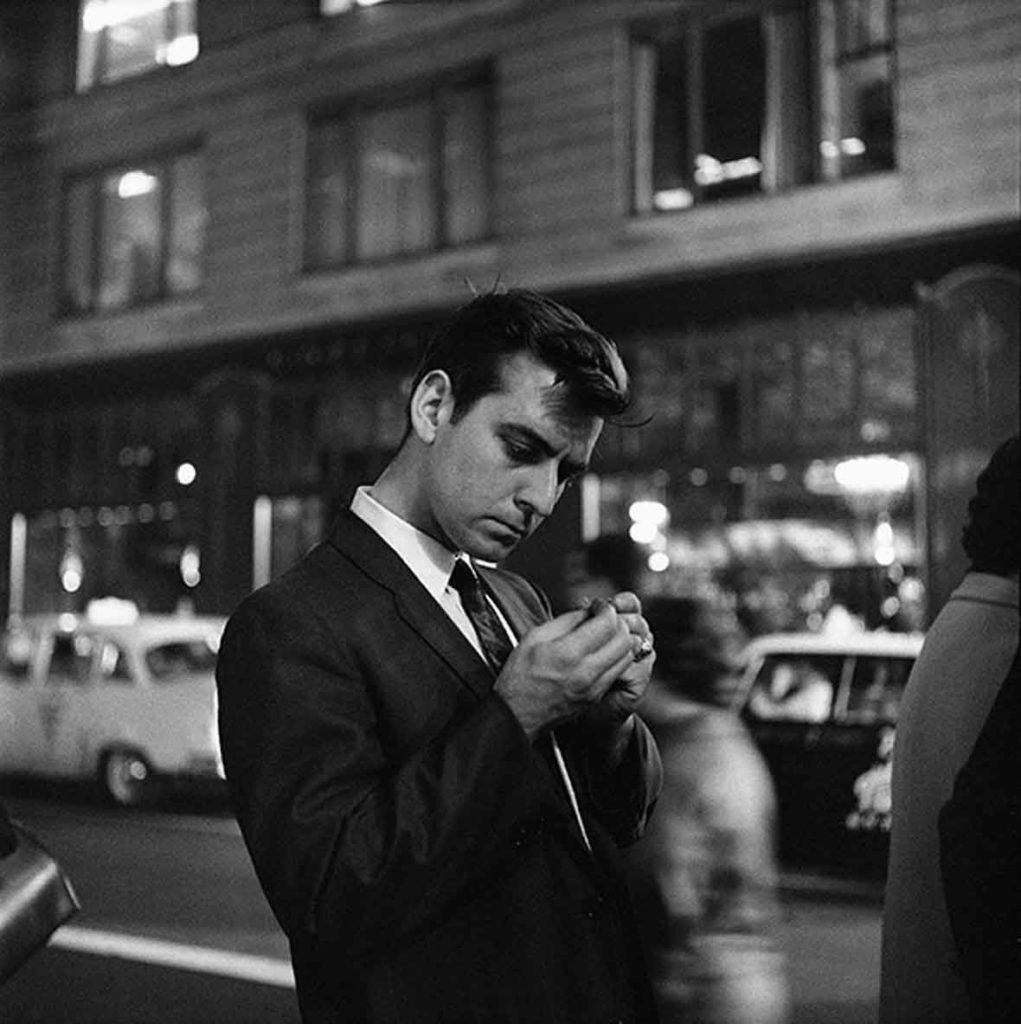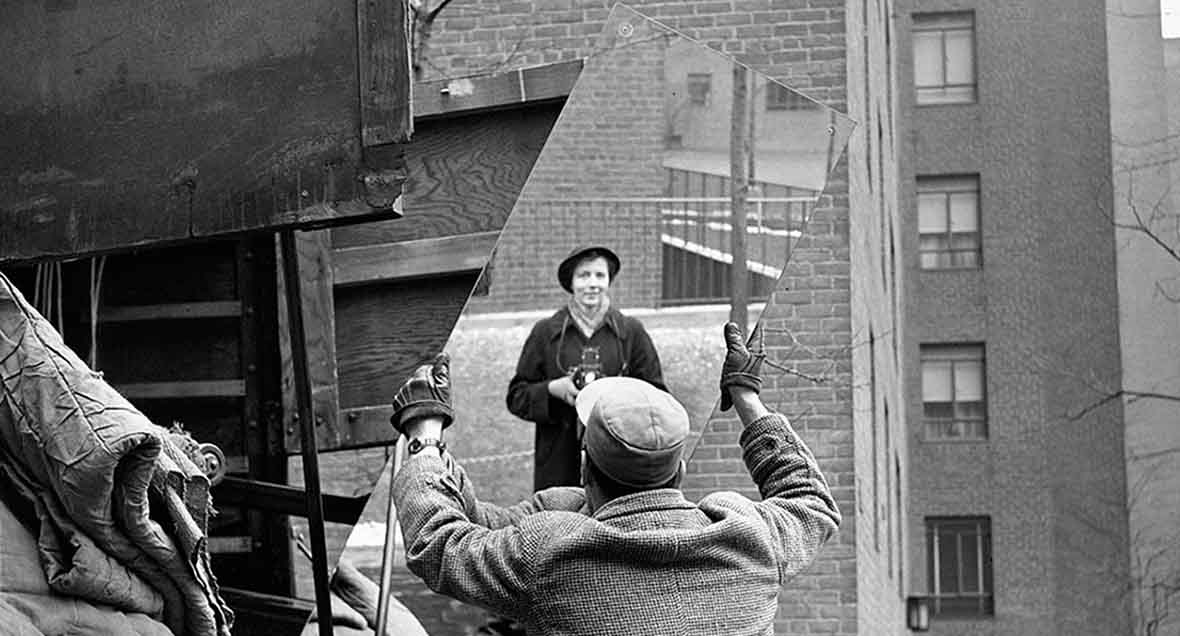 Vivian, The Enigma
How she learned to use a camera remains a mystery to this day. On analyzing her first known pictures (which were initially dismissed as snapshots by the collectors of her work), we find that she was not just an amateur taking snapshot-level photos all around town. Here was a woman who knew what she was doing. She knew how to work a camera and what she was exactly looking for. Whenever she found an interesting character on the street, she would always work around that person and take photos from various angles. Such behavior was very much, unlike an amateur. She was not just looking to take a snapshot and move on, she was trying to create a good photograph.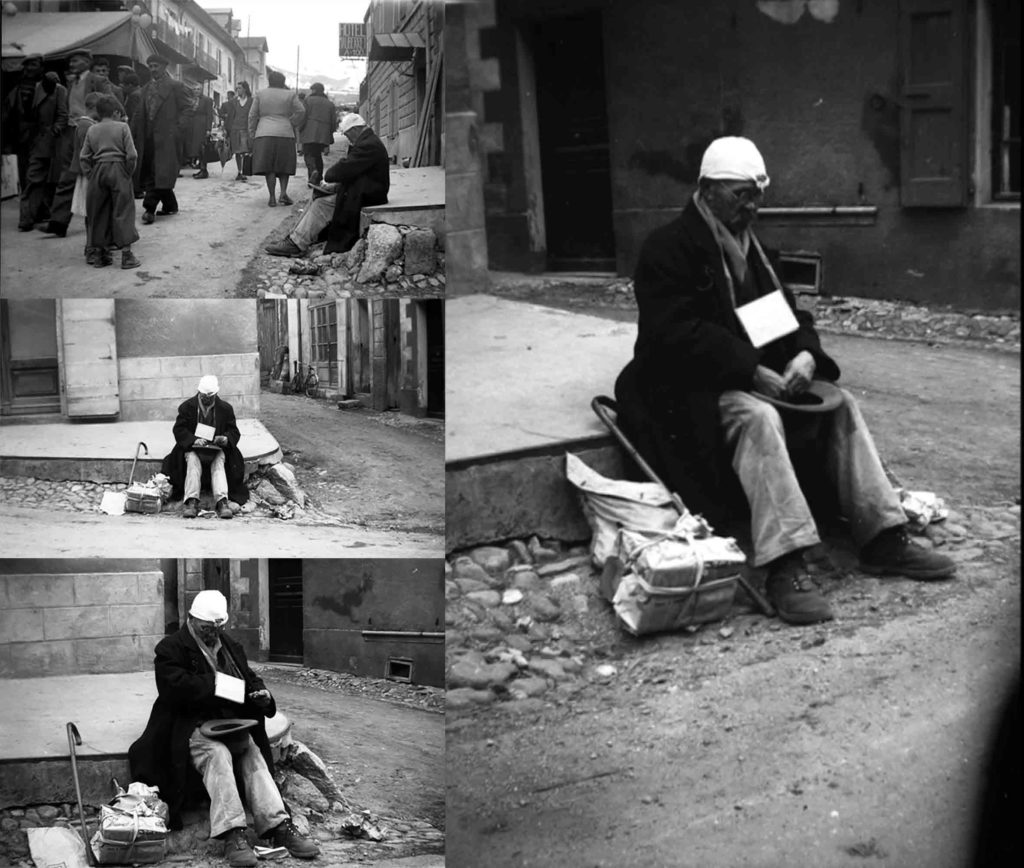 There was this one photograph that I found very interesting. It was a photograph of the great Salvador Dali giving an autograph to a woman near the front entrance of The Museum of Modern Arts. It seems she followed Dali after that and shot a second picture of him, little down the road. She dated the picture 24 January 1952.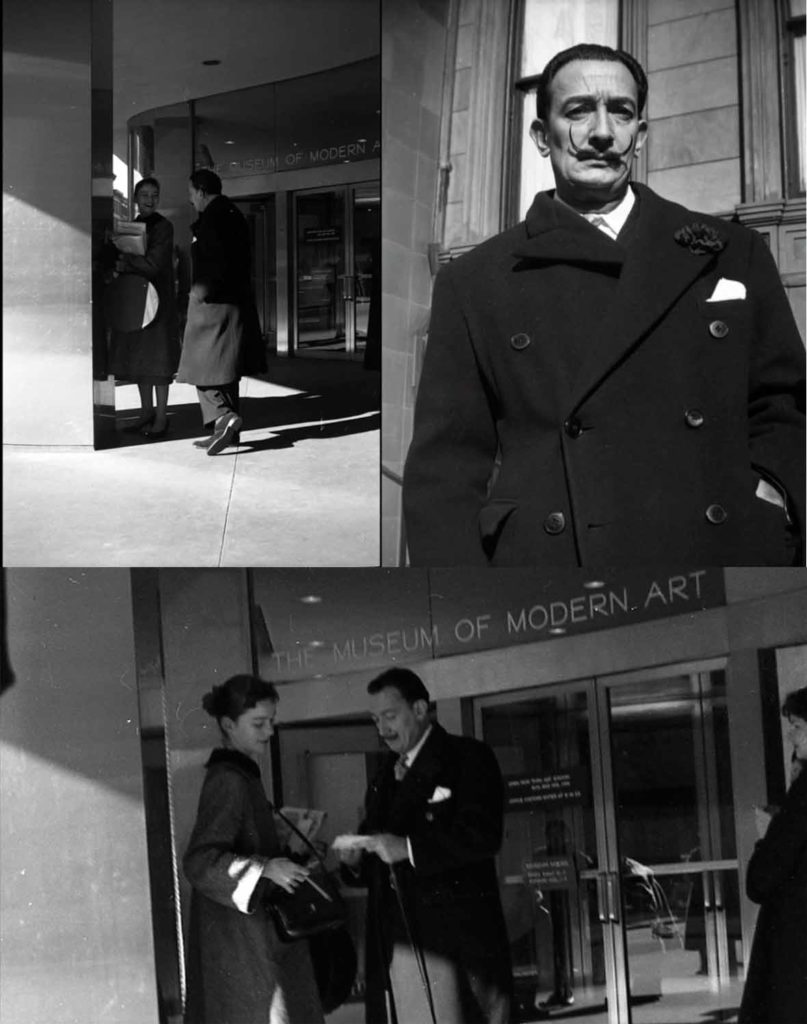 The interesting part was on the same day The Museum of Modern Arts was hosting an exhibition called "Five French Photographers", featuring reportorial photographs by great photographers such as Henri Cartier Bresson, Doisneau, Brassai, Ronis, and Izis. Vivian probably went there to look at those photographs. She was teaching herself photography.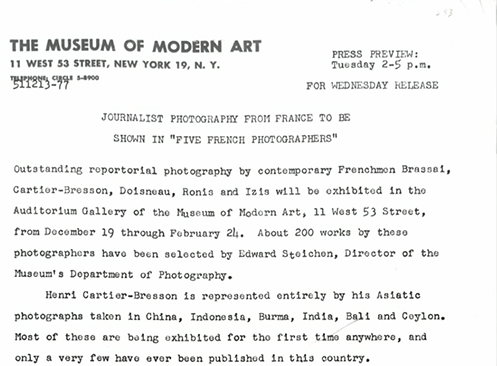 Vivian Maier initially started to shoot with a box camera that did not have a lot of functions. It had just one shutter speed and NO other adjustments. It was sometime around 1952 that she finally made the switch to a Rolleiflex, her trademark camera. The Rolleiflex had a large square negative and twelve shots on a single roll. Vivian shot pretty voraciously. She used a roll a day on average. She virtually spent all her earnings on camera, equipment, and storage. Unlike other "professional photographers" of her time, she usually shot just one photograph and moved on. Her hit rate was phenomenal.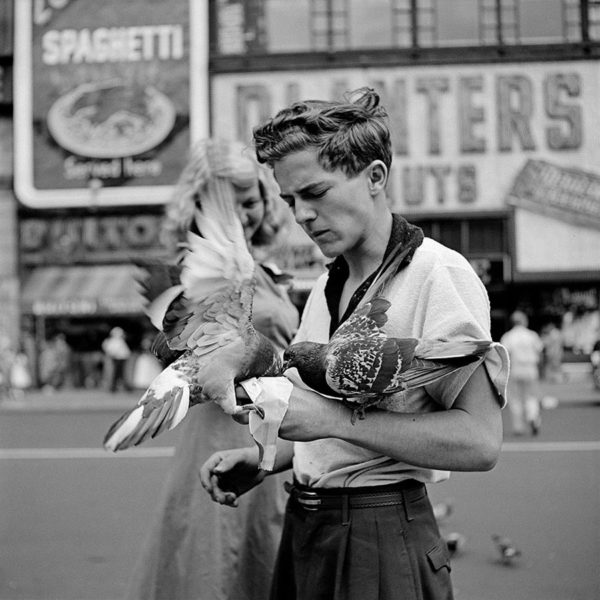 Nanny on a world trip
In 1959 and 1960, Vivian Maier took a maiden trip around the world just to photograph. She went alone to many countries such as Malaysia, Bangkok, Hong Kong, the Philippines, Indochina, Siam, India, Thailand, Egypt, Yemen, East Indies and the whole of South America. Bear in mind that all this happened even before the term Street Photographer was coined.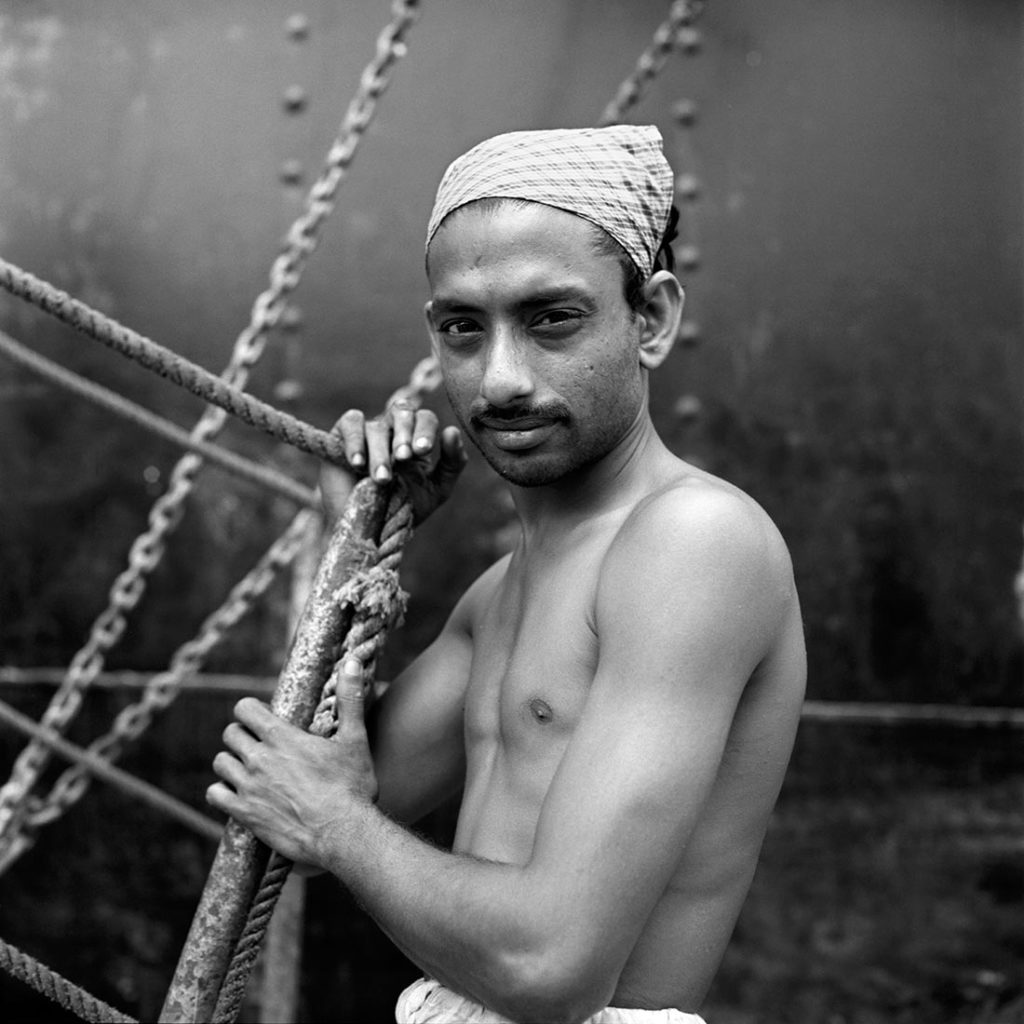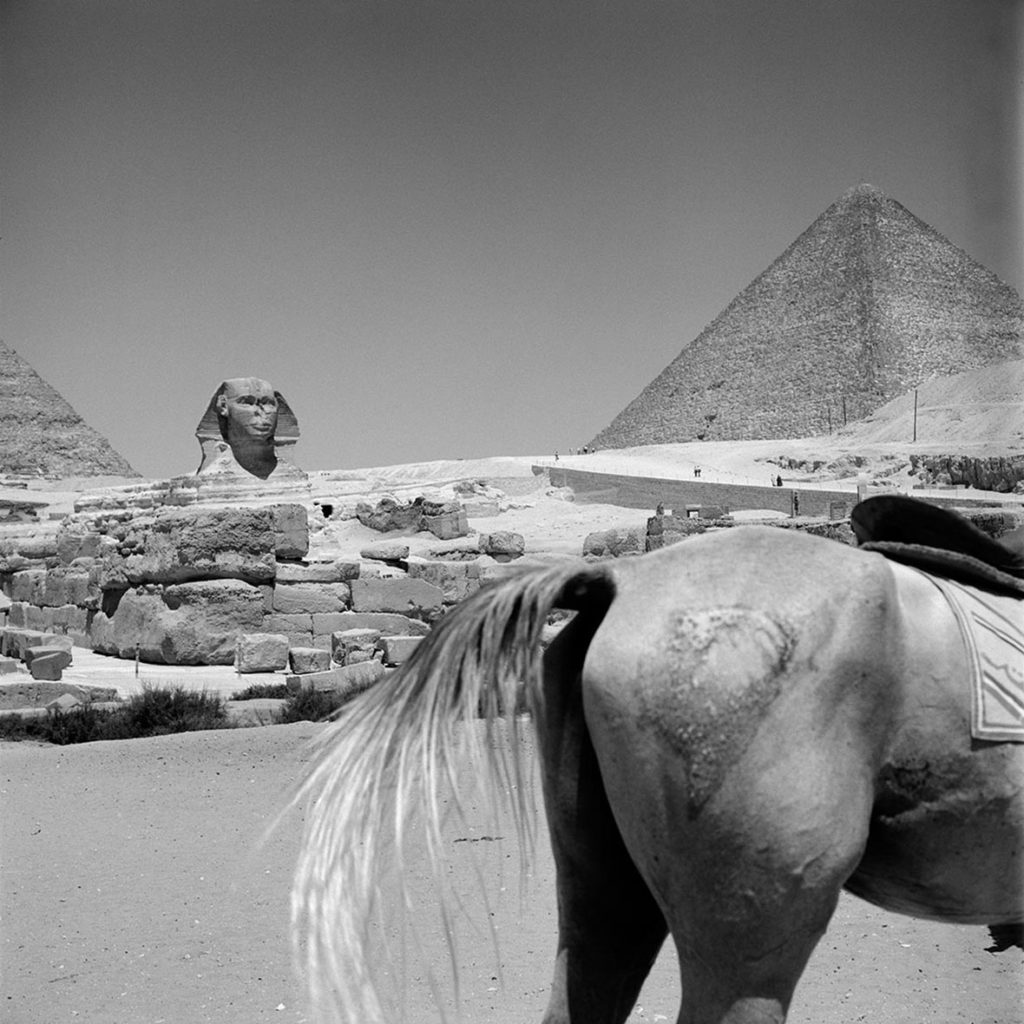 More than fifty years ago, a single nanny sets off to see the world and to photograph it. This was before mass air travel, before motorways, before the Internet and google maps and the million other things that we have now taken for granted when we think of going somewhere. I can't help but simply marvel at the courage and the spirit that Vivian Maier had. She was and still is unprecedented in this regard.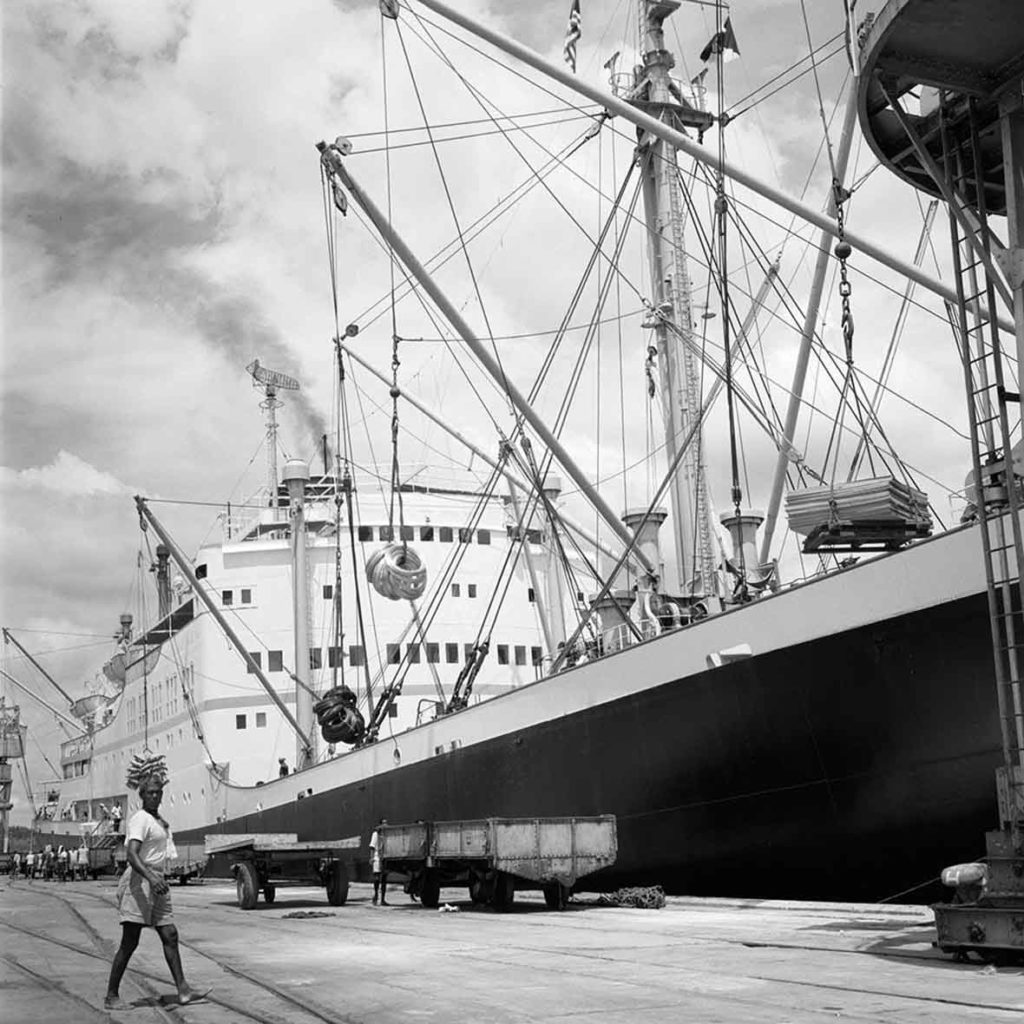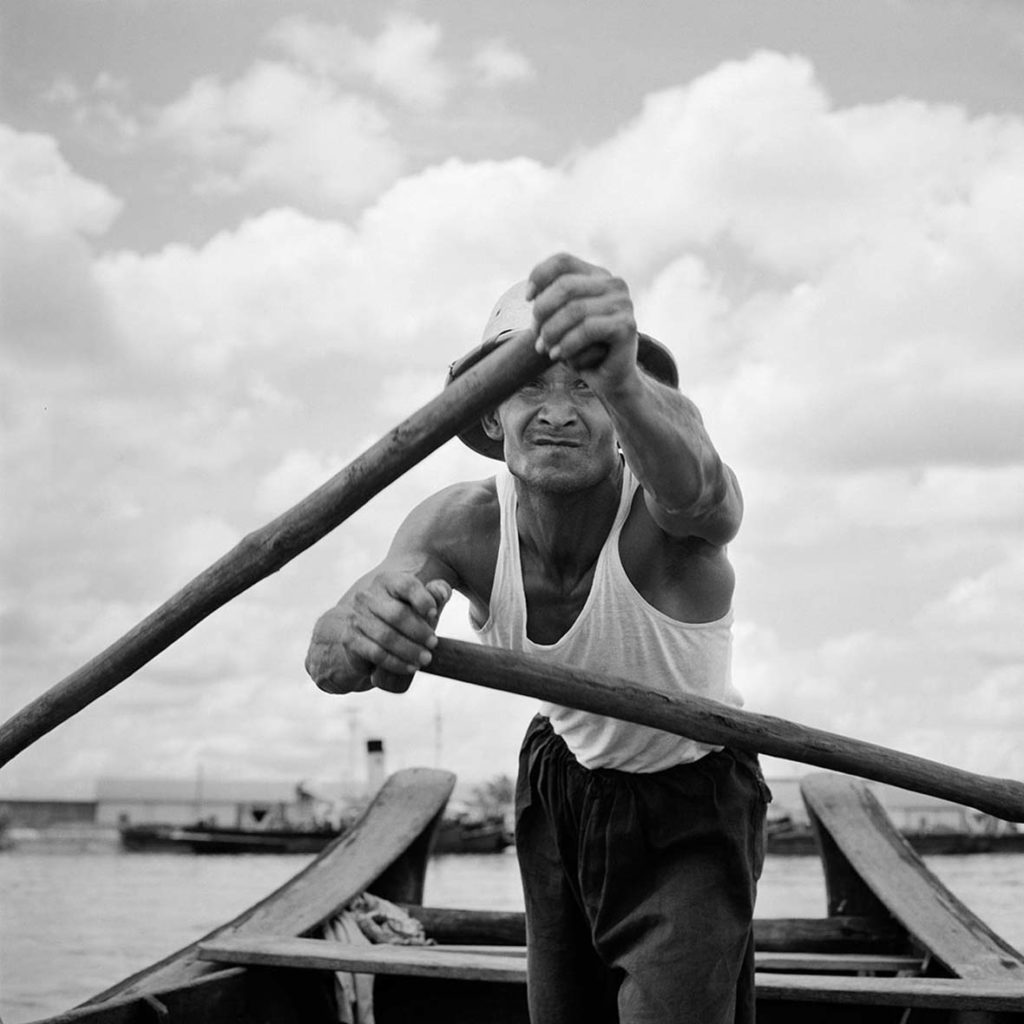 Vivian Maier unlike any other photographer I can think of made her work entirely for herself. She had no audience, she knew no other photographer. She didn't really print her work, except in the most rudimentary form. She didn't exhibit her work or publish her work. It was a project entirely self-motivated, entirely self-fulfilling  -Steven Kasher (Gallery Owner)
Most of Vivian Maier's subjects were people who were somewhat like her; living on subsistence wages, poor workers, people with tragedies, etc. A substantial part of her work has been on children, mostly children she took care of. The subjects varied from the relationships of the children with their parents to the stark contrast of the society in those days. Whenever she had free time, Vivian would ride the train from the northern suburbs where she worked to Downtown Chicago to walk the streets and hunt for suitable subjects. Sometimes she would not even come back home during the weekends, and what she did then, no one knows.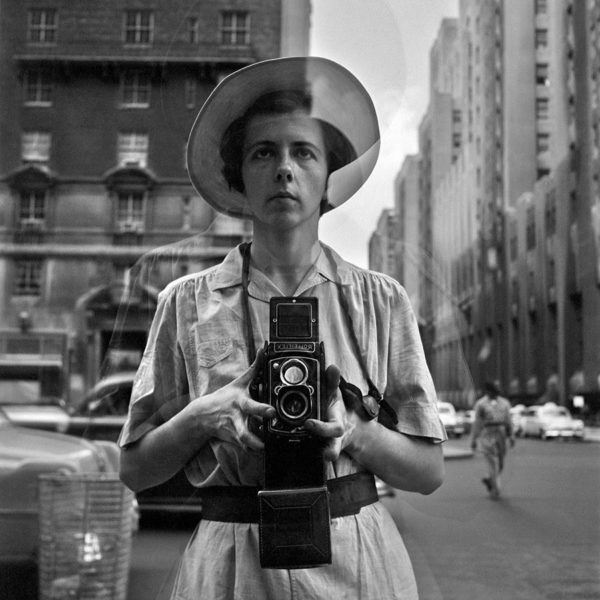 Later in life, Vivian's subjects tended to be fewer people and more artifacts and things like certain types of news and found objects. Vivian even built an archive of her own by photographing her own documents, e.g. her passport application, important letters etc.
Discovery
Vivian never had a home for herself. She was never married and had very few personal relationships. She kept all that she possessed in rented storage facilities. As is evident by many people she knew, Vivian Maier was a pack rat. She saved all these assortments of things that somehow symbolized a moment in time to her. She had tonnes of newspaper article cut-outs, newspapers, audio tapes, pieces of jewelry, hats, her vintage looking clothes, more than four thousand rolls of undeveloped film, postcards, bills, photograph prints and a host of other things.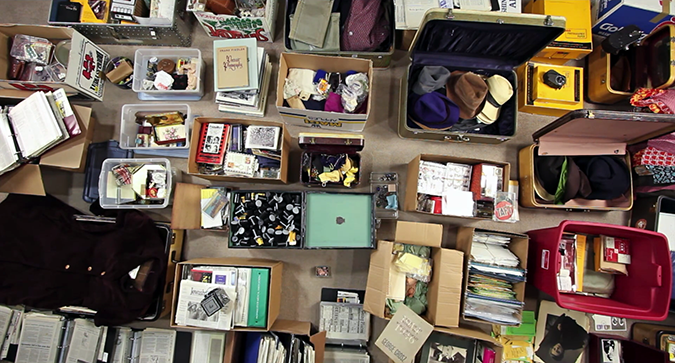 Unfortunately, in the latter part of her life, it was very difficult for her to find work anymore. She was seen as a woman who had gone from being a little eccentric to nearly mad. The bills kept piling up which she was unable to pay by any means.
It was an evening in November 2008, when she was taking a walk, that she accidentally fell and hit her head near the train tracks. She was taken to a local hospital. At the same time, when she was in the hospital and trying to recover, her possessions which were in a rented storage space were put up for auctions due to non-payment of rent. Half a dozen dealers turned up. Roger Gunderson, the auctioneer, bought five lockers full of Vivian's stuff, he paid $250 for everything. Three photo collectors John Maloof, Ron Slattery, and Randy Prow bought parts of Maier's work. John Maloof now holds the majority of Vivian's possessions. The second largest holder is Jeff Goldstein, an artist, and a carpenter, who bought his share from Randy Prow.
Unearthing her first photograph
Vivian Maier's work was first published on the Internet by Ron Slattery in July 2008, but it gained little attention. Maloof had found a few pieces of paper along with the photographs that had the name Vivian Maier on it. Both Maloof and Slattery tried to find her on the Internet but nothing showed up until her obituary popped up one day in the Chicago Tribune in April 2009.
Later in October 2009, Maloof linked a part of his blog to Flickr, where he had uploaded a few hundreds of Vivian's pictures. The photographs went "viral". It was during this time that most people came to know the name Vivian Maier and the mystery-shrouded intriguing story behind it. Maloof even made a few prints of Vivian's work and sold them on eBay.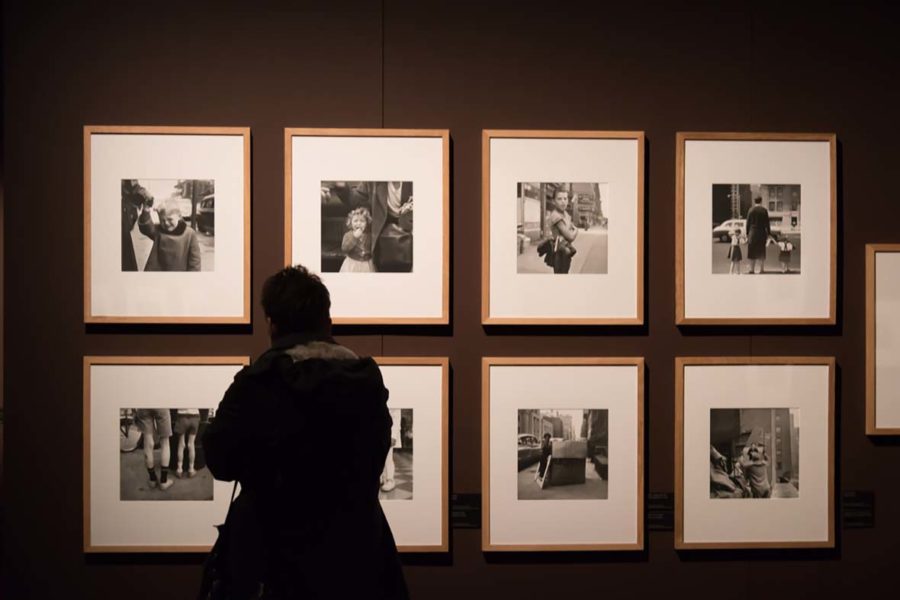 Vivian Maier never saw in her lifetime the beautiful large prints that are made from her negatives now. All she ever witnessed was small postcard sized prints that were made by the local drugstore or the one that she made herself in her lodging. Now, the New York Gallery sells new prints, often made from negatives that Vivian did not even have the money to develop, from upwards of $2000. Vintage prints go for $3000 or more.
Vivian's last few years
Vivian Maier died on April 21, 2009. In her last few years, the Gensburg brothers who Vivian looked after as children, helped her financially. They also helped her find an apartment to live on Sheridan Road, in the Rogers Park Community area of Chicago.
If I ever meet the Gensburg brothers, I would like to shake their hands and thank them for the kindness they bestowed on Vivian. An exceptional artist who had been so terribly treated by the world and her own fate.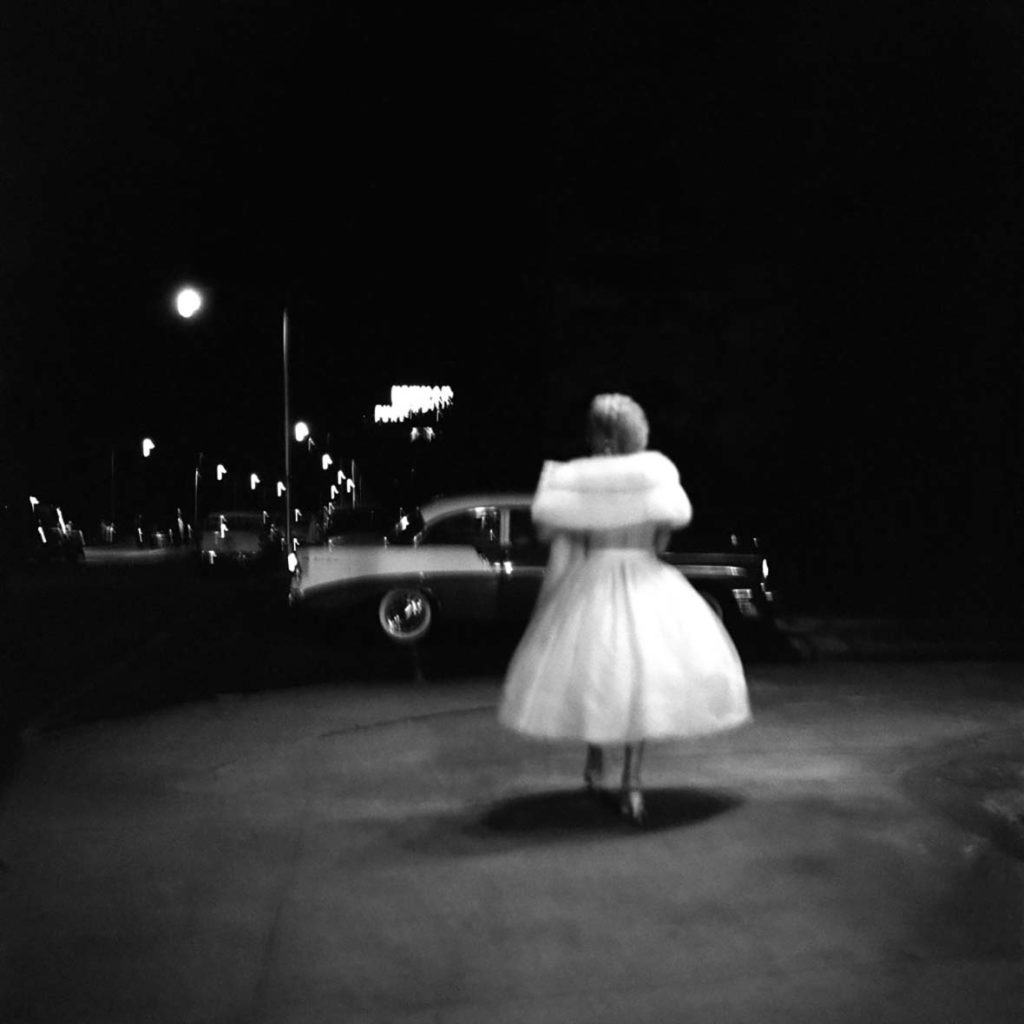 It seems so tragic that the same belongings of the person, which were initially sold for non-payment of rent amounting to a few hundred dollars, are now making thousands of dollars for people who just happened to be there and bought her stuff for dirt cheap prices without even knowing what's inside. All they saw then were boxes and suitcases when the lockers were first opened for the auctions. Many people like John Maloof and Jeff Goldstein are now into the "Vivian Maier business".
Only if she published her work herself
I wonder what Vivian would do had she been alive now that the world had realized what a great artist she was. Would she let her work be brought to the limelight, displayed in galleries, written about in books, made into films or would she still keep it to herself and cherish it on her own? What would have happened had the world known about her in the 60's or 70's? Would she be counted among the greatest of photographers, like Henry Cartier Bresson and Garry Winogrand?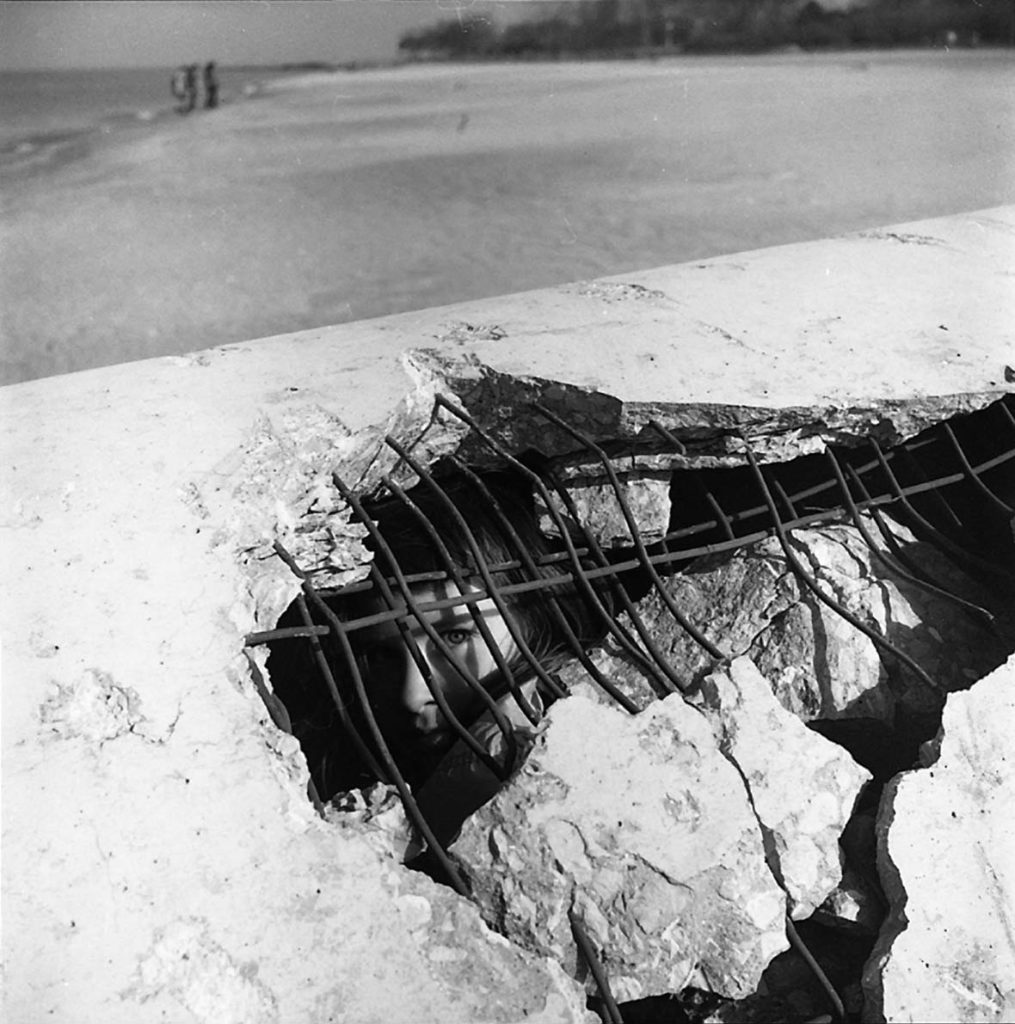 Personally, I feel Vivian Maier was one of the most talented and original street photographers of the 20th Century. Let's not forget the fact that she took photographs in her "off-time" only, unlike many other photographers; with who she is now compared. These photographers were full-time professional photographers and enjoyed a lot of access and financial freedom – things that Vivian never had in her entire life. She nearly always lived on the margin and even then she managed to make her work of exceptional quality.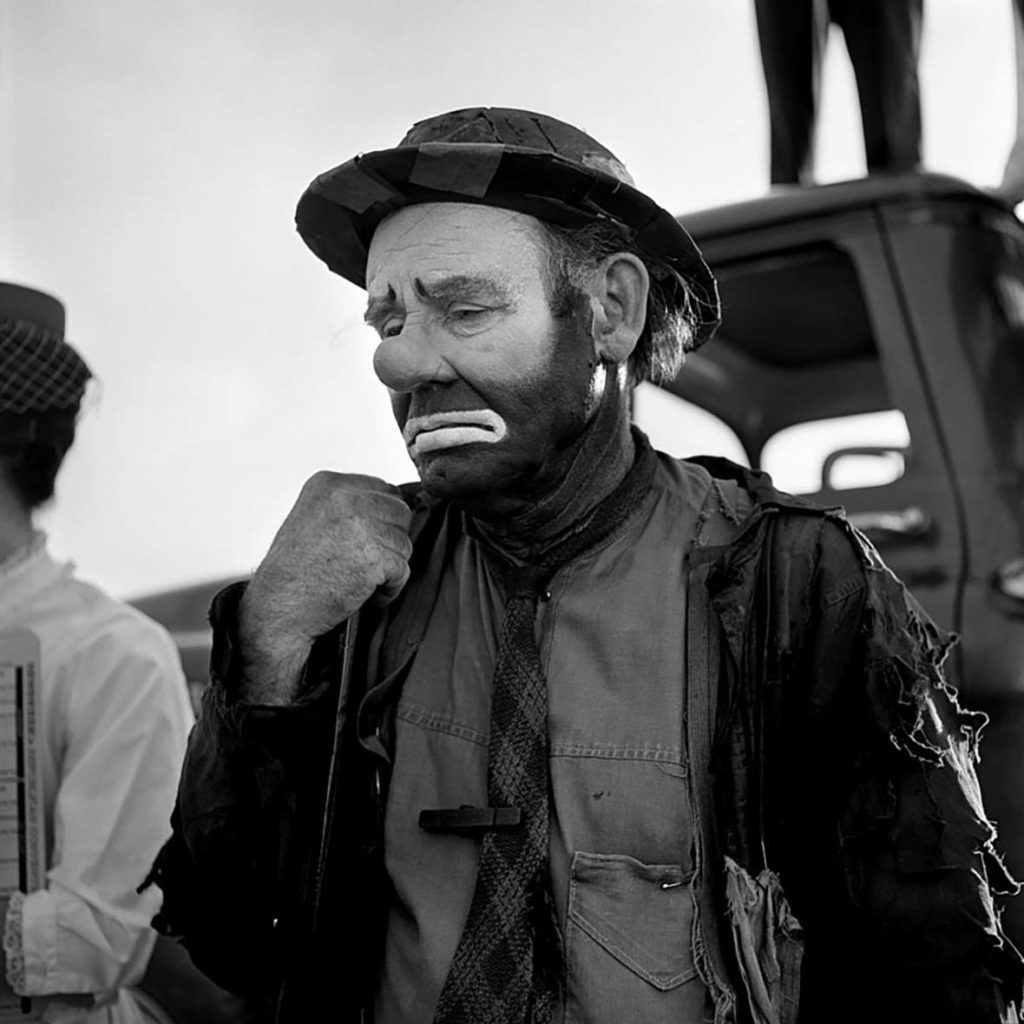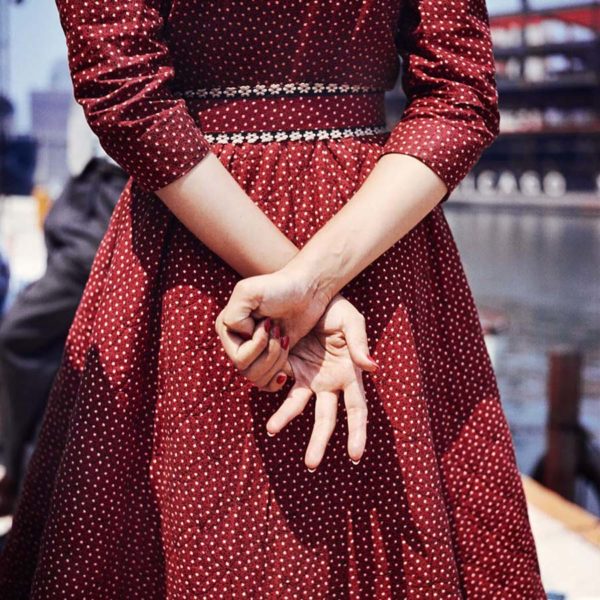 I am totally a fan of Vivian Maier's pictures. Her pictures tell stories that are unlike any and also the manner in which they reveal the story is beyond extraordinary. Far from the digital 'click like hell era', she just used expensive Rolleiflex medium format film that had only twelve shots a roll. God knows how she produced those photographs.
I just hope wherever she is now, she is in peace and clicking a lot of pictures, hopefully on a Leica M10.
Books of Vivian Maier's photographs:
Vivian Maier: Street Photographer. Brooklyn, NY: powerHouse, 2011. ISBN 978-1-57687-577-3. Edited by John Maloof. With an introduction by Maloof and a foreword by Geoff Dyer.
Vivian Maier: Out of the Shadows. Chicago, IL: CityFiles, 2012. ISBN 978-0978545093. Edited by Richard Cahan and Michael Williams.
Vivian Maier: Self-Portraits. Brooklyn, NY: powerHouse, 2013. ISBN 978-1-57687-662-6. Edited by John Maloof.
Eye to Eye: Photographs by Vivian Maier. Chicago, IL: CityFiles, 2014. ISBN 9780991541805. Edited and with text by Richard Cahan and Michael Williams.
Vivian Maier: A Photographer Found. London: Harper Design, 2014. ISBN 9780062305534. Edited by John Maloof with text by Marvin Heiferman and Howard Greenberg.
(Source: Wikipedia)
Documentary films on Vivian Maier:
Vivian Maier: Who Took Nanny's Pictures (2013), directed by Jill Nicholls, produced by the BBC. Re-cut and released in the U.S. in December 2013, as The Vivian Maier Mystery.
Finding Vivian Maier (2013), directed by John Maloof and Charlie Siskel.
(Source: Wikipedia)
Disclaimer: All photographs if not mentioned otherwise are taken by Vivian Maier.