Ah Holi, the Hindu festival of colors. The one day of the year when everyone forgets who they are, and what they do and just let themselves be as colorful as they could get…..literally!
Holi also seems to be one of the major attractions for many people living in the west. And for good reason. It is unlike any other festival in any other part of the world. People drenching each other in all colors imaginable, partying (yes, during the day, in the Sun) and having a gala time together.
Your right index finger is itching to slide on to the shutter button and get some beautiful images, isn't it?
So in this post, let me tell you all you need to know and be able to photograph all this amazing day has to offer and miss nothing good.
So shall we start….?
Backdrop
Let's understand one thing first, India is a vast and diverse country.
There are many cultures, many beliefs, and many legends. There is hardly any festival or religious occasion which is celebrated all across the country and has just one version of it.
Diwali, the festival of lights is celebrated as Deepawali in northern India. It marks the episode of Lord Ram returning home to Ayodhya after fourteen years of banishment.
The same festival is enjoyed by the people in Bengal (where I live) as Kali Puja, worshipping Goddess Kali.
In yet another version, in the southern part of the country, Diwali is celebrated as an occasion which marks the victory of Lord Krishna over Narakasura, a demon.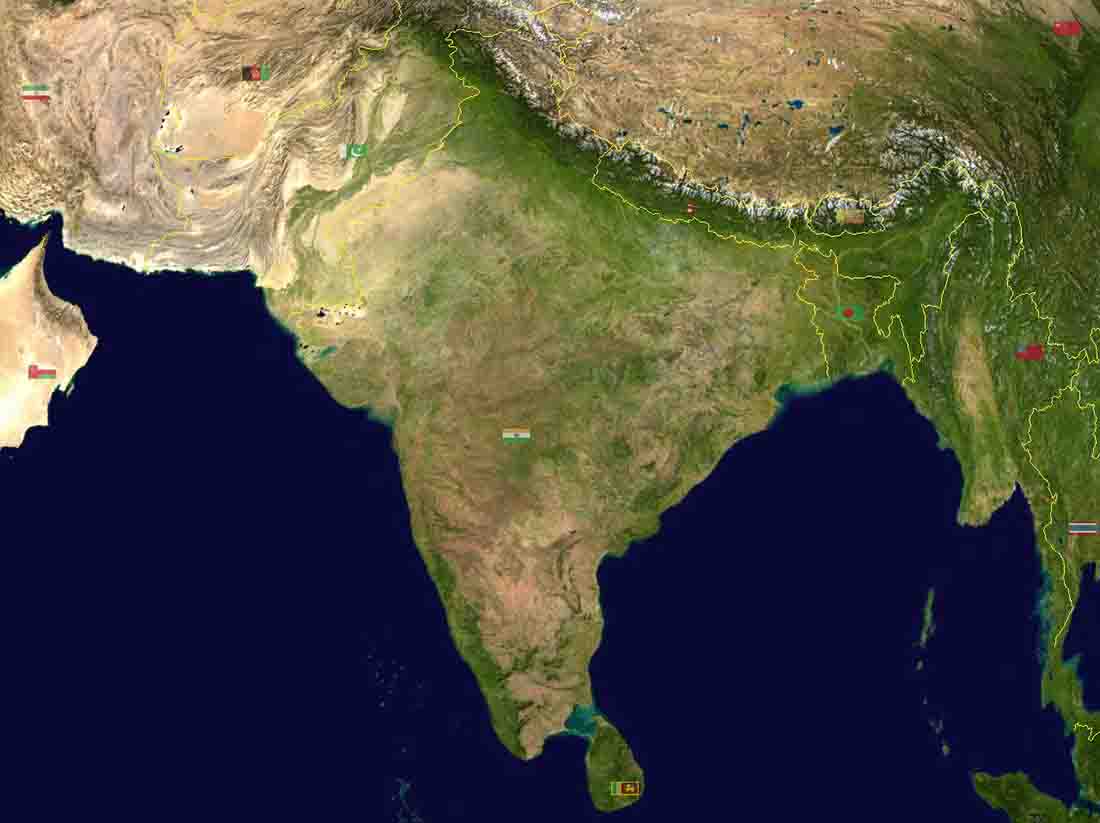 The same festival is named differently in different parts of the country and similarly, has varied cultural backstories and rituals to go along.
Holi is no different. It also has many versions of it. And depending on where you are in the subcontinent and on which date, you will experience it differently.
I love my country! Can you blame me?
Oh! Before I forget, the next Holi is on Monday 28th March, and Tuesday 29th March 2023. Mark your calendars.
Photography Now
Now that we have a little bit of knowledge about what Holi actually is and what it represents, let's dive deep and make the best pictures we can.
The rule of thumb for anyone coming to India and going out on the day of Holi to shoot pictures is to treat the streets like a war zone.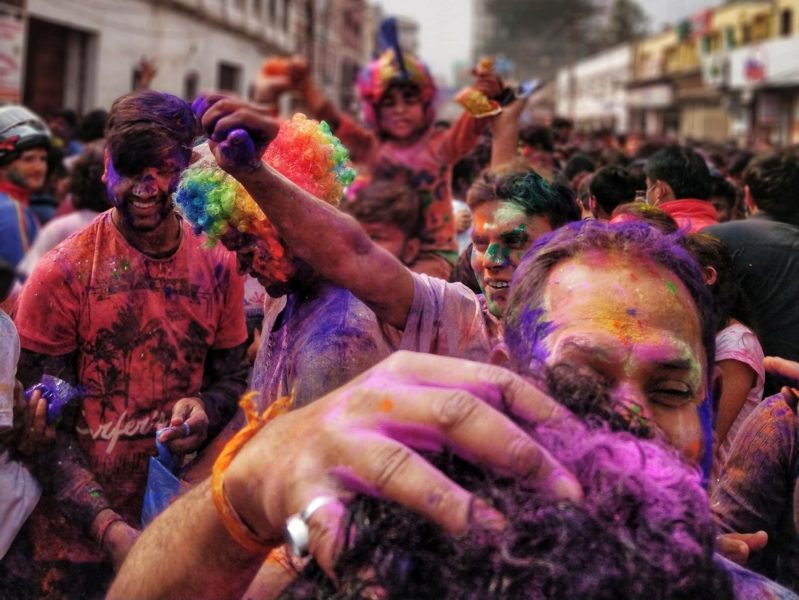 No, nobody would come to harm you but if you are not careful enough with your camera, it might sustain serious injuries. Primarily from unintended water splashes and powdered colors.
Gearing Down
My suggestions for shooting during Holi is very similar to what I suggested for shooting in the rain.
Travel light, travel far. 
I get it, you have come a great distance from your country with potentially a lot of photography equipment and want to take the best images back home.
There is just a small problem.
It is incredibly dangerous to even take your camera out of its protective enclosure once you are out on the streets, let alone change lenses, swap memory cards, or even put in fresh new batteries.
The latitudes of adjustment are pretty narrow on this one. One setup, that's it.
All you need is somebody just dumping on you a bucket of colored water and there your camera is now just a very expensive paperweight. And it is more probable than you think. Nobody is treated as a stranger on the day of Holi and everyone is a target.
Just take my word for it. Better be safe than sorry.
Camera Lens Duo
Take one camera and a lens that is capable of giving you good all-round coverage. I would suggest a wide-angle zoom lens. Something like a 12-40mm lens or the ever-trusty 24-70mm f/2.8 should be perfect for the occasion.
Charge up your batteries to the full and keep them ready the night before.
For the memory card, you want to use the largest one you have on you. Depending on the image format you choose to shoot in, a 32Gb or a 64Gb card should be plenty enough for all your shots and some more.
The idea is pretty simple.
Expose the camera as little as possible. Actually DON'T!
Ready the camera with all you might need and then encase it safely within the cover (which we will discuss in a minute). You want to get out of your room with the camera in the cover and take the cover off only when you are back. Not a second before.
If you absolutely need to use more than a single lens, use an extra camera body. At all cost, avoid swapping lenses.
Camera Settings
Once we are done with enclosing the camera safely, your camera will be engulfed in multiple layers of plastic and the only exposed parts of it would be the front of the lens and a little bit of the viewfinder.
Choosing the full manual mode is not very advisable in this situation since it might be very difficult for you to even reach and operate the dial and the knobs. You may consider using one of the semi-automatic modes such as Aperture or Shutter Priority or even the Program Mode.
Whatever settings you finally decide to use, make sure that you have at least a minimum shutter speed of 1/160th of a second to be able to freeze the color throws and take blur-free portraits of people.

Using the Auto ISO feature on your camera is good insurance that you can use here.
All you have to do is select an ISO value you are comfortable going up to with your camera and specify a minimum shutter speed. If the light doesn't fluctuate too much, the camera will ensure the minimum shutter speed for all your shots, automatically using the ISO. You don't have to worry at all.
Isn't that wonderful?
Give it a read if you need more information on it: Auto ISO | Everything You Need To Know
Protecting Gear
There are primarily two ways to do this:
The Pro way: Using a rain sleeve or an underwater housing for extra protection; or
The DIY way: Making a protective plastic jacket out of zip lock bags.
For the former, there is not much to say. Just buy it and put it on, and it should be good enough to withstand anything that comes your way during the Holi festival. Think tank makes some excellent rain covers called Hydrophobia. You may want to look at those.
The underwater housing is seriously overkill but a rain sleeve is just the thing you want.
Here is a video that should put things in perspective.
If you want to pursue the DIY route, you will need a couple of zip-lock bags, rubber bands, and an abundance of duct tape.
First, locate any opening on the bare body of your camera.
All the sections near the battery cover, pop-up flash, where the SD card goes in, the lens mount, ports located on the left side of the camera, etc. Cover all of them up with thin strips of duct tape. You don't want anything going in.
Next, insert the camera in a zip-lock bag and seal it up. Create an opening in front of the camera for the lens.
Let only the front of the lens peep out of it.
Put on the lens hood over the plastic to secure it. For some added protection you may want to add a little bit more duct tape and rubber bands just where the lens hood ends.
Use the most inexpensive UV filter you can to protect the front element of your lens. With people throwing powdered colors and water all around, you will inevitably have some on your lens. This is the best way to keep it as safe as you could.
Lastly, you may create a small opening for the viewfinder too but personally, I wouldn't. If you are not too uncomfortable, use the LCD screen for the day.
Just to keep tabs, if you happen to get some time in between shots, just glance through the histogram to make sure that the exposures are coming out fine. LCDs are a tricky business.
Good Tip: Remember to pump up the brightness of the LCD screen to the highest, so that you can see it through all the layers of protection.
On The Hunt
Once you are done prepping the camera, next comes the most important part of the process. Finding good subjects for your images.
Here are a few very common ones:
Crowds
Portraits of colorful faces
Flying colors
Towers of colors at the store selling them
High-angle shots of many people playing Holi together.
These are all extremely good subjects for you to shoot. Although the one that I like the most is 'emotions'.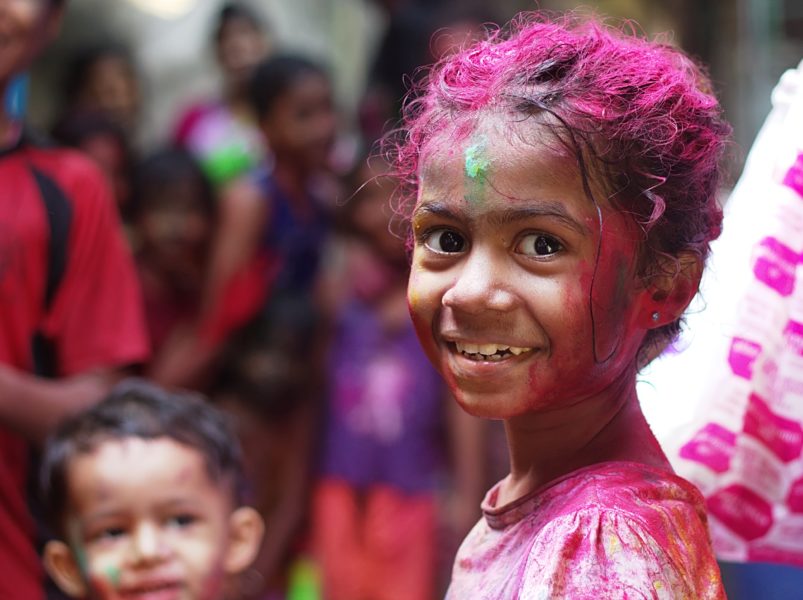 Holi is one of those rarest days where if you plan and anticipate right, you will get some amazing shots of human emotions.
Even as Indians, we get to play with colors only once a year. For just one day we get to go totally berserk and crazy. Throw colors at complete strangers, gather around with friends, invent mad games, and a lot more. It is a really fun time to be around.
Keep your eyes peeled and look out for people ambushing someone totally unaware of it. Or someone who just had had a glass too much of bhang and is spontaneously about to erupt.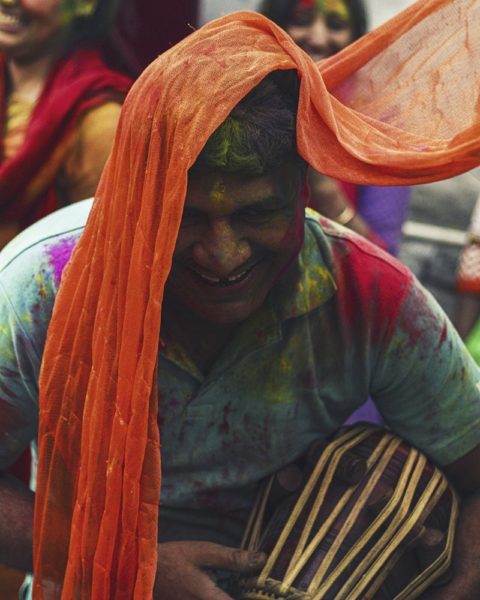 There is a whole spectrum of emotions that you can potentially capture. All you have to do is just be a little attentive to it. Look for the decisive moment, it might be worth it.
Bonus Tips
Wear clothes that you are okay with throwing away once you are done.
When you return to your room, use a blower to remove any colored powder from the enclosure of the camera first. Take your camera out slowly so that the colors do not fall back on it.
Don't opt for the touristy "safe" version of Holi that hotels offer. They are a load of c**p.
Back Button Focusing is a good way to nail your focus precisely. You can also use Zone Focusing.
Whatever protection you choose to have (Pro or DIY), make sure you check that everything is working the night before. You may need to innovate a little if something doesn't fit well. Don't postpone it till the last minute.
Holi is celebrated on the first full moon day in the Hindu month of Phalgun. Just in case you want to shoot the moon that night.
Before going out, apply a generous amount of oil on your skin and hair. It would protect you from the colors and help you wash them off later.
It's Holi and NOT Holy!
Wrap Up
I hope you come to India and experience this wonderful festival of Holi once in your lifetime. I can assure you, you won't be disappointed.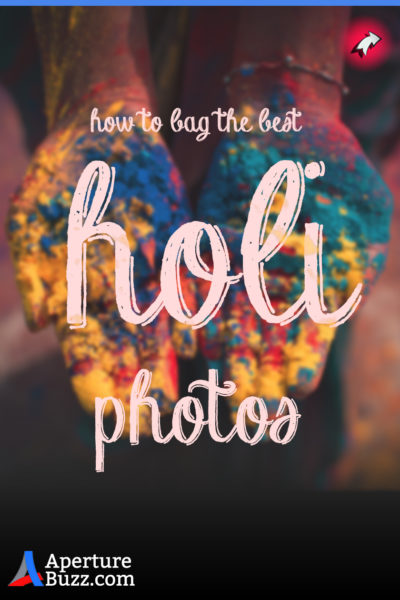 You subconsciously know that already!… Don't you?
As I said before, there are different versions of Holi celebrated in different parts of the country. Make sure you do your research and come prepared for it.
This website is an extremely good resource you can use to narrow down your choices.
Let me know how you enjoyed it. And once again welcome to my country.
Have a great one.
Keep shooting amazing.
This is now a teeny tiny blog trying to compete with the big guys. If you liked what you read, please take a second to share it. It would help me a lot. Thank you.