The wait is finally over.
Panasonic has just launched its first full-frame mirrorless bodies here in India, and they are a treat.
Breaking away from its shell of producing mirrorless bodies with just Micro Four Thirds sensors, this time Panasonic has truly up its game by producing two amazing full-frame bodies.
They are called the Panasonic Lumix S1 and the S1R.
Both the cameras share the same magnesium alloy, dust and splash resistant body which is unapologetically large and extremely well-built.
Weighing in about 1021 gms (with the new 3100 mAh DMW-BLJ31 Rechargeable Lithium-Ion battery), this is unlike any other mirrorless body you have ever seen.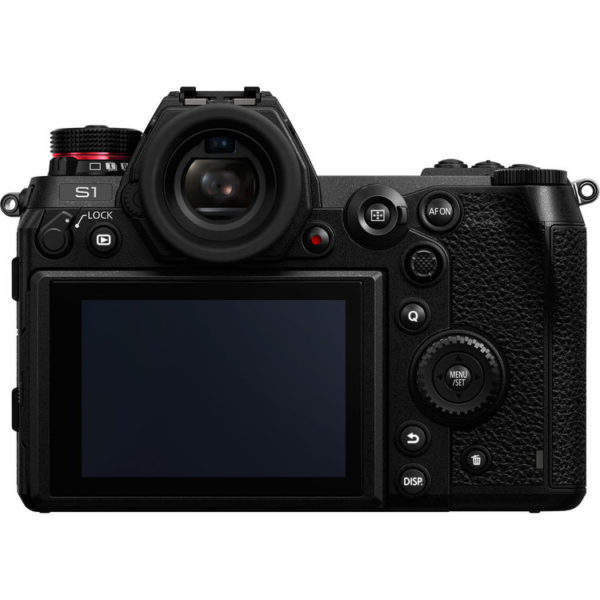 It has a plethora of buttons and dials all around the camera, most of which are highly customizable.
Changing settings on the fly is now a breeze.
The cameras also feature dual card slots (SD slot supporting speeds up to UHS-II and a XQD slot),  5axis image stabilization capable of providing 5.5 stops of stabilization (6 stops if coupled with a Lumix OIS enables lens), mechanical and electrical shutter which go up to 1/8000th of a second, burst rate shooting at 9fps (locked focus), and 6fps (with subject tracking).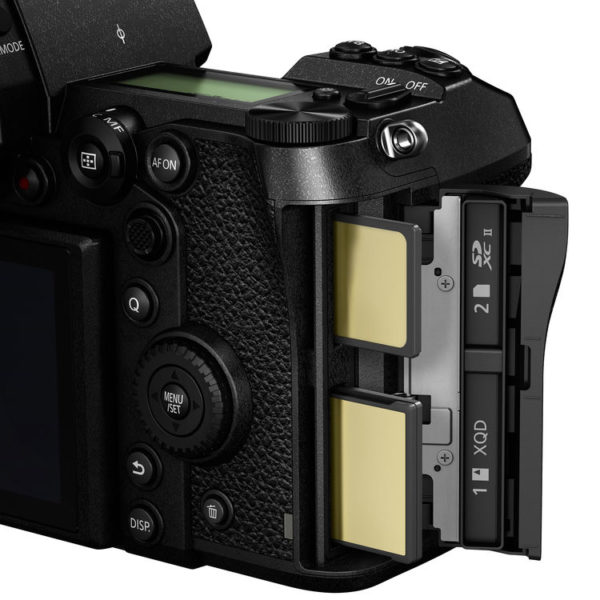 Panasonic has also installed in it a 100% coverage, class-leading 5.76 million dot electronic viewfinder (EVF) with a refresh rate of 120Hz, which is an absolute joy to work with.
No other mirrorless camera in the world has a better and clearer EVF than this…period.
The LCD at the back, however, is a slight disappointment since this time around, Panasonic has ventured away from a fully articulated screen it generally uses for its camera bodies. Although not totally fixed, the screen at the back only swivels up and down and tilts slightly to the sides.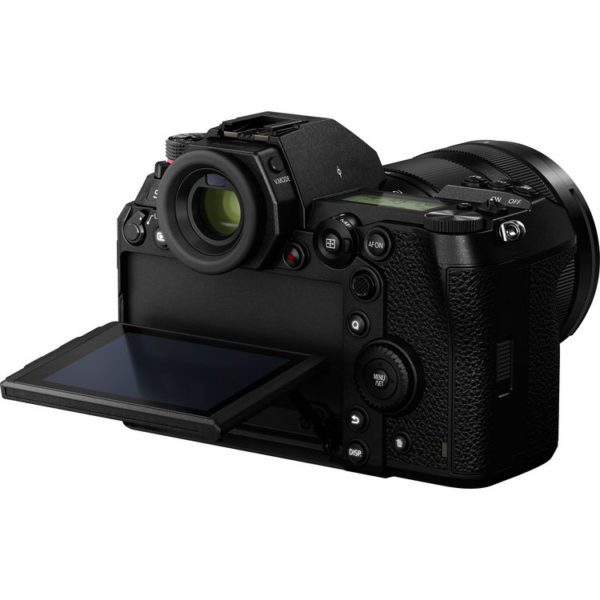 There is no pop-up flash but in its place, there is a hot shoe mount with a PC terminal using which the photographer can add XLR audio inputs to the camera.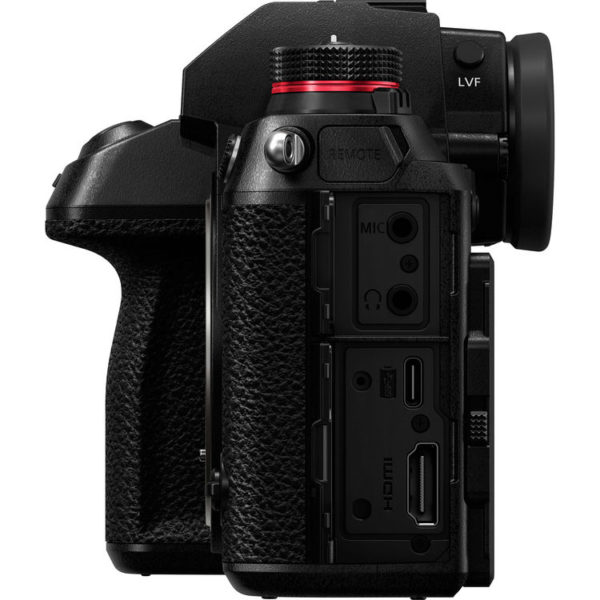 With a 3.5mm headphone out, 3.5mm microphone in, a full-size HDMI slot, USB type C and an X-Sync socket, there is simply no dearth of ports on this camera. The USB type C port can be used to both charge the battery or to power the camera. Very 2019 indeed!
On the wireless side, it also has WiFi and low powered Bluetooth built in.
Using the Panasonic Image App (iOS | Android) you can now not only control the primary settings of the camera remotely but also use it to seamlessly transfer photographs to your phone for sharing with your friends.
Oh! Before I forget, the Lumix S1 has a 24.2 MP sensor while the S1R sports a whopping 47.3 MP behemoth.
Like most previous Panasonic prosumer level cameras which are primarily intended for videos, both the S1 and the S1R are skewed a slight bit more towards the video side.
But to be very fair that has led to nearly no downside for the still images department. The colours and tones out of the camera are simply beautiful; moreover, skin tones are rendered extremely well.
At launch, both the bodies are capable of shooting
4K at 60fps 150 Mb/sec
4K at 30fps 100 Mb/sec
The 60fps 4K, however, has a 1.5 X crop.
Panasonic has also announced a paid firmware upgrade sometime in the next few months (end of June most likely) which would enable the camera to shoot:
4K 30 fps 4.2.2 10-bit internally, and
4K 60fps 4.2.2 10-bit externally both with V-Log.
The Verdict
It cannot be emphasized enough how much Panasonic has developed over the years as a manufacturer of premium quality still and video cameras. There are many 'new' things that the company has introduced for the first time in these two camera bodies.
With a good partnership with Sigma and Leica, the L-mount that Panasonic has adopted for these bodies will go a long way.
In time, I believe, there will also be a healthy and wide lineup of premium and budget lenses from Leica, Sigma and Panasonic itself.
At the time of writing this, there are already three very good lenses available:
Lumix S Pro 70 – 200mm f/4 O.I.S telephoto
Lumix S Pro 50mm f/1.4 prime
Lumix S 24 – 105mm  f/4 O.I.S zoom
There is an option available to buy either the new Lumix S1 or the S1R as a bundle with the Lumix S Pro 24 – 105mm f/4 zoom lens. The other two lenses are, however, sold separately.
Cons
As for the cons, there are only a few that I could find.
The price seems to be a little on the higher side. With the Lumix S1 selling for ₹1,99,990 ($2500) body only or ₹2,67,990 ($3400) with the 24-105mm f/4 lens; and the S1R ₹2,99,990 ($3700) for just the body and ₹3,67,990 ($4600) as a bundle with the lens are definitely at the top end of the spectrum in terms of price. The price is even higher here in India.
Also, I didn't like the idea of crippling the camera first and then selling a paid firmware update only to be able to reap all the shooting power the camera and the sensor have to offer. Nikon, for instance, is offering a free upgrade to RAW video for the Z6.
Lastly, the autofocusing department seems to be lacking a lot with the complete exclusion of the Phase Detect Autofocus System (PDAF). Both the Lumix S1 and the S1R have just contrast detect autofocus (CDAF) which doesn't inspire much confidence in me. Personally, I would probably shoot using manual focus, especially when filming videos.
So, what do you think of these two absolutely hot off the press camera bodies? What did you like and what didn't you….do let me know in the comments below.