Are you stuck with a fixed LCD at the back of your camera which refuses to move? Or ever felt the need for a larger screen on which you can actually see if your subject is in focus while shooting a video?
I have a quick, easy solution for you then.
Get yourself an external monitor. A nice, large one.
But wait, there is a problem!
Yup, it's financial in nature…again.
Nearly all external monitors sold in the market today cost an arm and a leg. Yes, they do perform a heck lot of jobs and if you have the right camera for them, they will absolutely make your shooting life as easy as possible.
But the sticker shock is real.
Not everyone in the consumer market can actually afford one to be absolutely honest.
So, are we stuck with the small little, low-resolution LCDs at the back of our cameras? Are there no cheap or DIY solution out there for this?
Well…
Retrofit Your Phone Or Tablet As A Monitor
If you think about it…why not?
Especially with a tablet.
It has got a large screen and better resolution.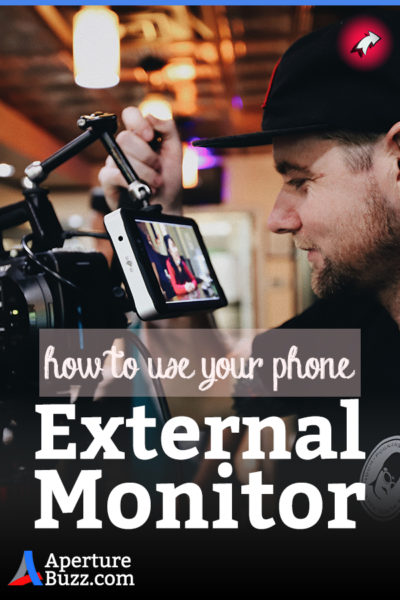 Pairing it with your camera will not only save you a lot of money but may help enable some extra features like touch to focus, focus peaking, etc, which may not be present in your camera by default.
And not just that. You can also potentially use it as a remote monitor too.
So remote framing and focus checks are a breeze and no more the pain in the posterior as they used to be before. I think you will relate to this if you run a YouTube channel that requires you to sit on a chair and talk to the camera.
So what's the damage?
Not much actually. All you need is a USB cable (this probably already came with your camera), an OTG adapter which can then be connected to your tablet or phone and an app.
Oh, right just one more thing.
You would need a hot shoe mount and a phone grip to be able to attach your new guerilla monitor on top of your camera.
That's all.
Putting It All Together
It is pretty straightforward and easy.
Just follow the instructions below and you will be up and running in no time.
Connect your USB cable to your camera's port.
Then attach the OTG adapter to the other end and hook up your phone/tablet.
Switch on your camera and set it to Live View mode.
Fire up the app of your choice on your device.
There you have it. Now you should have a perfectly functional external monitor capable of so much more than your small little LCD ever was. Focus bracketing, exposure bracketing, time lapse, live histogram, geotagging to name just a few.
The last time I found these many FREE goodies was when I discovered Magic Lantern for Canon cameras. God, I so wish I had an 80D.
Considering you got yourself a good mount you should also now have a fully articulated screen which can be positioned in any way you wish.
What more can you ask for?
The Elephant In The Room
Yeah, about the app.
I did my due diligence and searched for an app which would work for most camera manufacturers and are also compatible with both Android and iOS devices but…..
Let's just say I met with limited success.
There was no single answer to this question.
It was overwhelming because of the number of camera bodies out there, the current firmware on them and then the phone or tablet one would use, and subsequently, their own software issues were too much to factor in.
Some apps just work with a certain set of hardware and some simply don't. The best way to find if an app is the one which works the best for you is to try it.
Trial and error. Yes, that is what I am suggesting here.
Just one word of caution here.
Many apps on both the app stores advertise themselves to be the end all, be all solution for this. Do NOT trust them. Always go for the trial version first, use it for a week or two and then if you feel like it, pull the trigger and you may then think of buying the "pro" version of it.
Whatever happens, do not pay before you actually see it working on your own set of camera and phone.
Another thing to consider here is your own comfortability with the system. This might seem to be an excellent solution for people on a shoestring budget or for those who do not want to shell out a large sum of money just for a larger display, but it may not be what makes you feel one with the system.
Give it a shot and see if you like it first. Not everything is for everyone.
App Recommendations: 
Camera Connect & Control (free) or qDslrDashboard (paid) for Android.
Field Monitor (paid) for iOS devices. However this only works with certain "hybrid" cameras such as the Panasonic Gh5 and Sony A7S Mark II. Make sure it supports your camera before buying.
There are countless other free apps, I tried a few of them but most of them crashed very frequently on my setup so cannot really recommend them.
So there you have it, your very own external monitor for as cheap as possible. Let's go make some good movies shall we?
Keep shooting amazing.
This is now a teeny tiny blog trying to compete with the big guys. If you liked what you read, please take a second to share it. It would help me a lot. Thank you.