Have you ever had a long and lovely vacation somewhere beautiful and then came home with a truckload of images that are simply impossible to wade through and categorize?
Well, I have. Many, MANY times.
I only wished there were a fast and easy way to sort all those photographs and make them easy to navigate through.
Family vacation photos or personal wild adventures are probably best represented on a map,  something visual and immediate which demonstrates exactly where each and every photo was taken and thereby, help us reminiscence and relive those wonderful moments again.
Sounds interesting?
Well here is a two-step process (one of which is simply dragging and dropping your images) which will embed geotags in all your images and also locate them on a map for you.
So let's dive in. It will only be a minute.
Two Things You Need
There are many ways of actively attaching geotags to images and displaying them on a map.
I tried a few of them, and I found that using Lightroom to do the deed is the easiest. It is just a two-step process and even people with limited understanding of the software can use it.
So, one of the two things you would require is Lightroom itself. The other one is a photo taken with your mobile phone at the location with the GPS turned on.
The idea is to harness embedded GPS information in the cellphone photo for the other images that are taken using your DSLR or Mirrorless camera which does NOT have a GPS in it.
So, to use this system all you need is one image taken on your cell phone. It absolutely doesn't matter what the image is.
If you have a bunch of old photos lying around and have no reference image taken by your cellphone, check with other people who were there with you that day. Chances are at least one of them took an image with his/her phone.
Okay now that we have all we need, let's fire up Lightroom.
Import all the images you want to sort out and get them ready.
Next on the Library module of Lightroom, open up the reference cellphone image with the GPS data and click on the Metadata tab. You will see a bunch of numbers and symbols under the GPS option. These are nothing but coordinates which indicates the position where you took the image.
You should now see a little arrow pointing towards the right. Click on it.
Lightroom will now open up its Map module and on a satellite image show you the exact position from where you took the shot.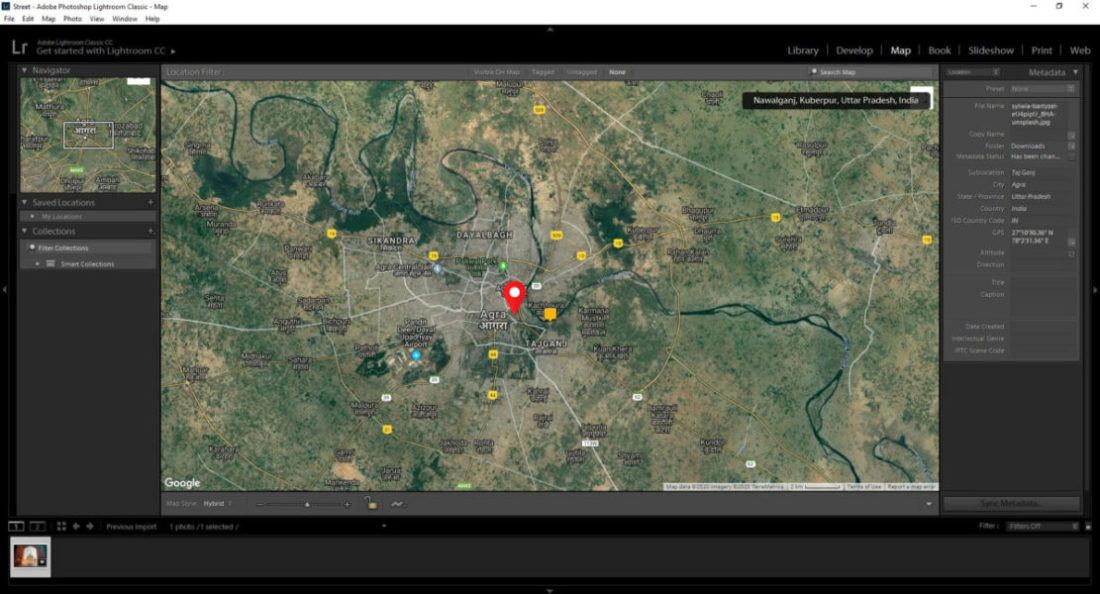 All we have to do now is select all the other images which were shot at the same place and then just drag and drop them on the marker on the map.
Lightroom will automatically write the GPS data for all the other images and locate them on the map.
Seriously, now what can be easier than this?
Geotagging images, done!